"I do all the evil I can before I learn to shun it? Is it not enough to know the evil to shun it? If not, we should be sincere enough to admit that we love evil too well to give it up."
Mahatma Gandhi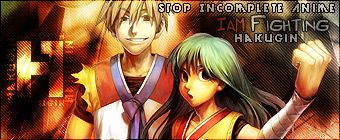 -=-=Incomplete Anime Movement (IAM)=-=-
For years, we have been suffering incomplete anime's, incomplete endings. Studio's making series 12 to 26 episodes long where the ending is left open, incomplete, and awkward. This movement is to stop production companies from ending series suddenly, finish them properly, and correct.
If you are the lucky one's caught off guard with...
Unexplained ending due to it ending suddenly
Open ending expecting a season 2
Fight back and spread the word. Anime is not a profit margin, its a way of life!
--------------------------------------------------------------------------------------------------